Posted on | January 7, 2012 | No Comments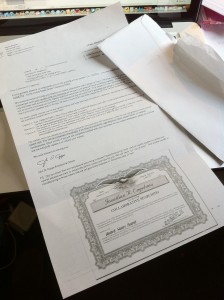 As I've commented previously, regardless of what we software types think of software patents, we all enjoy getting the type of junk mail depicted on the left in the mail. I received some of this "good" spam in the mail this afternoon.  "How about a framed copy of your fresh patent on parchment paper with a Double Suede Matte background in a Kensington Frame?  All yours for only $529, but hurry why the offer lasts".  Motorola used to give us a certificate mounted on cherry wood when we had patents granted (only $88 in the spam I have on my desk!) but now that I work at the University, I'll have to settle for a title page printout from the PDF tacked up on my office tack board.
In any case, Google should like this addition to the rather interesting patent portfolio they stand to gain if their acquisition of Motorola Mobility goes through.  US 8,090,732 is on collaborative searching.  If interested, you can read the whole thing here. Since my former Motorola colleagues and I submitted this patent app in 2008, there have been some interesting developments in the area of collaborative social searching.  For a good summary take a look at Marti Hearst's article in the November 2011 issue of the CACM entitled "Natural Search User Interfaces".
Patents are more fun to get than they are to write.   The initial responses you get back from the patent office often leave you scratching your head and wondering if they actually really read your claims.  When a patent actually gets granted you feel like somebody in the vast bureaucratic machine known as the USPO finally understood your idea, or at least you like to think they did.
Comments